Cheap Small Movers Brooklyn
Cheap Small Movers Brooklyn, NYC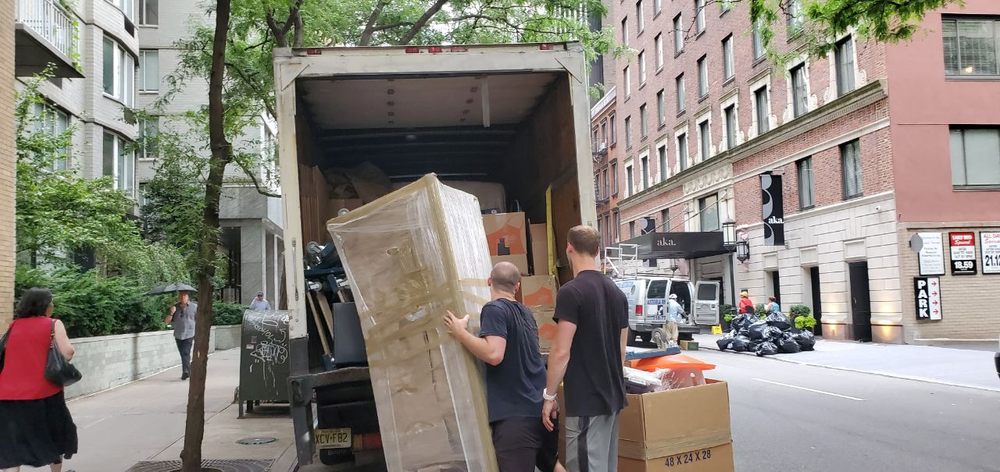 Moving to a large city can be a scary and perplexing experience. So, you can contact the cheap small movers Brooklyn A&D BROTHERS Moving company to avoid the scares. They are experts in minor transfers and can simplify complex situation with their straightforward methodology. They'd be pleased to assist you if you're planning a relocation to Brooklyn. You can trust them since hundreds of Brooklynites utilize their years for their modest moving, and their rates are fair.
When you choose A&D BROTHERS, you're getting more than movers; you're getting fellow community members. They take their years of experience in family relocation in Brooklyn, New York City, and apply it to every assignment.
Cheap Small Movers in Brooklyn: A&D BROTHERS
Moving Company A&D BROTHERS Moving small products locally or between states is where Brooklyn shines.
You may not have access to a private vehicle because of the high concentration of people in Brooklyn who live in small apartments and rely on public transportation to travel to and from work.
When they first began their company, they were aware of this. If you're relocating locally to Brooklyn but don't want to deal with the hassle of renting a truck and recruiting a few pals, A&D BROTHERS Movers is the small movers you can rely to get the job done.
They have always considered themselves your trusted allies and guides through this time of transition. Their entire firm, from their employees to their procedures to their products, is focused on making your time with them as easy and pleasant as possible.
What exactly is a small move?
Please get in touch to let A&D BROTHERS Movers know how they can best meet your needs for a small move.
We have helped with the following types of Small moves frequently:
Roommates who need one or two essential things, such as a couch or bed, moved.
Landlords hosting guests from abroad may need to temporarily store some of their belongings in a storage facility for the month their visitors are in town.
Undergraduates residing in student accommodation who have accumulated a lot of stuff and must now move it to storage or back home
While you take care of the remainder of the move, You need help packing and handling more complex or delicate goods, such as furniture or artwork.
Items too large for a pickup truck or an elevator in a multi-story structure necessitate professional moving services.
Families who have accumulated a lot of stuff over the years often resort to putting some of it in storage rather than uprooting their lives and starting anew.
A&D BROTHERS Movers will lend a hand wherever it is required.
The reasons to use A&D BROTHERS as cheap Small Movers Broolyn, Nyc
The Small Relocate service offered by A&D BROTHERS Movers is ideal for customers who need to move a single item or a small number of things, such as roommates moving out, students switching dorms, or a small number of pieces of furniture. They are quick and ready to assist you with your modest relocation anytime, day or night, 365 days a year. They're fast, cheap, and able to manage every aspect of your local relocation, so you won't have to lift a finger.
How to contact cheap small movers Brooklyn?
Don't hesitate to contact A&D BROTHERS MOVERS. They can tailor their straightforward procedure for small moves to make your relocation a breeze. Their local warehouse services the entirety of Brooklyn and is equipped to deal with any special regulations that may be in effect. You can call this number (212) 920-0036 when you need small movers Brooklyn.
A&D BROTHERS MOVERS also offers an additional service to make your Small move easy
Regarding relocation, A&D BROTHERS MOVER has always seen itself as a facilitator and ally. They have designed their entire business to make your experience with them as simple and stress-free as possible.
A&D BROTHERS Mover also offers the following other services:
Packing & Unpacking
All your belongings will be safely packed and unpacked by A&D Brothers Moving. Please take your time with your valuables; use them for quick, thorough packing services.
A&D BROTHERS Movers offer to unpack services to help you get settled.
Labor Only
Increase your force by adding some extra people to the mix. The staff will be dispatched to your location to offer assistance.
Facilities for Storage
This is the place for you! A&D BROTHERS MOVER-affiliated self-storage options are both cheap and convenient. They have what you need whether you require storage for a few months or you want some more room.
Quality Assured Products and Services
You can be assured that you'll get top-notch care and that all your demands will be satisfied. They value your business and want you to have a positive experience with us, whether you are scheduling a specific move or just browsing for moving ideas and information.
A&D Brother's Small Movers Brooklyn Price
The cost was straightforward, and there were no hidden fees. No other moving company offers more convenient price options. Everything required for the relocation, including transportation, labor, materials, and equipment, is rolled into a straightforward fee. Nothing is out of the ordinary; you won't have to pack or unpack, use the stairs, or pay any tolls. All you have to pay is the price of transportation and moving services. Complete care at a DIY price. Thanks to their guaranteed pricing, you can confidently plan your relocation, knowing that the cost will not change.
It takes a lot of work to get about Brooklyn. Many things may go wrong when you move to Brooklyn, whether traveling across town or just a few blocks away.
When moving a single item in Brooklyn, A&D Brothers knows what is expected because they are familiar with the local culture.
The term "No job is too big or too small" is often overused in advertising. However, this slogan accurately describes the company and the services they offer.
Give them a list of the items you want to be relocated to, and they'll go to work. In their field, there are no typical occupations. They always go into an assignment with a fully prepared squad and vehicle.